Dentures – Rocky Hill, CT
Restore Your Smile
with High-Quality Dentures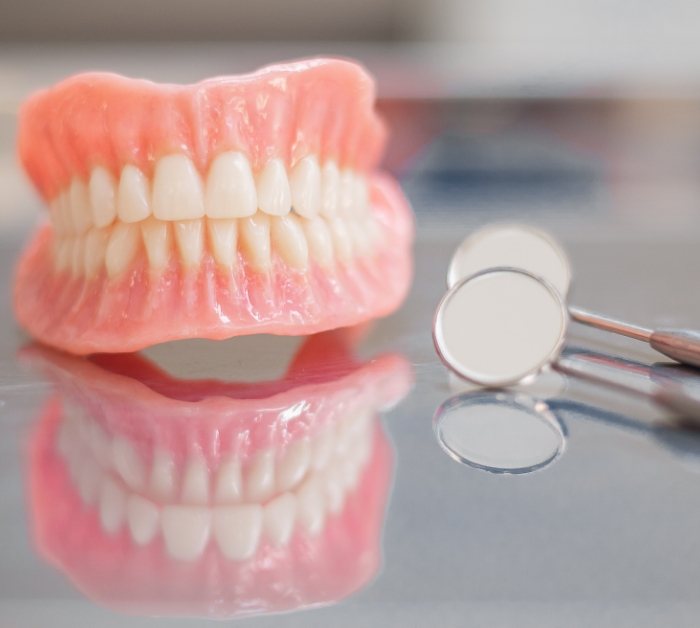 Whether you are only missing a few teeth, or you are missing all of your teeth, you definitely know the struggle when it comes to speaking, eating, and other basic daily tasks. Fortunately, missing teeth doesn't mean that you have to go the rest of your life without them. There is an affordable tooth replacement option out there. Our team at Dental Essentials can restore your smile with high-quality dentures in Rocky Hill. To learn more about dentures or to schedule an appointment, give us a call!
Why Choose Dental Essentials?
High-Quality Materials for a Natural-Looking Smile
Three Experienced and Dedicated Dentists
We Accept Dental Insurance and Other Financing Options
Who is a Good Candidate for Dentures?
Dentures in Rocky Hill are recommended for patients who are missing multiple, most of, or all of their teeth. Depending on the location and number of missing teeth, our team creates a plan that is personalized in order to give the patient optimal comfort and functionality. It is important to note that if you have any existing oral health issues, like periodontal disease, tooth decay, or other damage, they will need to be addressed and treated beforehand. When you get your smile back, you want it to be healthy!
Types of Dentures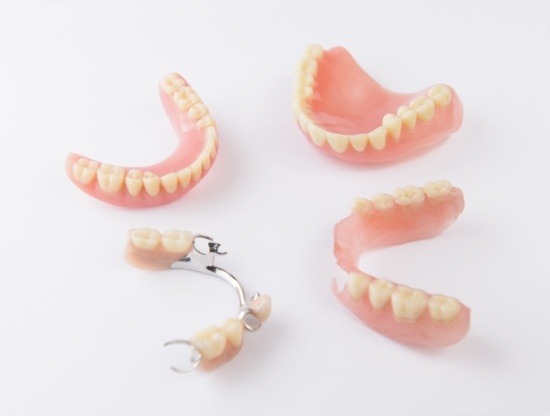 There are several different types of dentures to address different needs. Depending on the state of your smile now, we will determine which of the following is right for you:
Partial Dentures
If a dental bridge isn't enough to replace your missing teeth, a partial denture may be the right option for you. It effectively restores teeth on opposite sides of the mouth and prevents neighboring teeth from shifting. This type of denture is customized to fit perfectly in your mouth so you won't have to worry about it looking unnatural or shifting around.
Full Dentures
While partial dentures rely on the surrounding teeth to stay in place, full dentures rely on the overall shape of your mouth and the natural suction of the gums. Full dentures replace an entire arch of missing teeth. For both the top and bottom arch, it's designed to have a gum-colored base and enamel-colored replacement teeth for a natural appearance.
Implant Dentures
For a longer-lasting, more stable smile, dental implant dentures are available. After placing a series of titanium dental implants throughout the jawbone, your custom denture can easily be attached. This method allows for 70% of your chewing function to be restored. You won't need to worry about replacing them either because dental implants are designed to last for many decades.
The Benefits of Dentures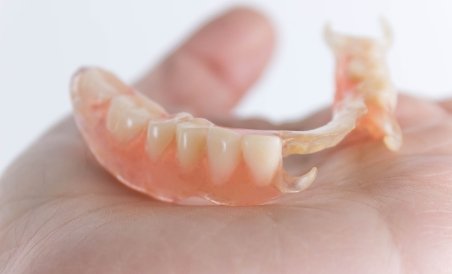 By choosing dentures in Rocky Hill to replace your missing teeth, you are bound to experience the following benefits:
Easy maintenance
Long-lasting
Supports facial muscles
Natural appearance
Increased confidence
Improved speech
Easier eating
Covered by most dental insurance plans
Denture FAQs
Do you still have some questions you'd like answered before you commit to getting dentures in Rocky Hill? We understand if you do; rebuilding your smile is a decision that shouldn't be made lightly. It's important to review all of your options and make sure you're well-informed beforehand. Our Dental Essentials team can address your concerns during your consultation, but until then, it may help to read through this list of denture questions that we get asked the most often.
What Can't You Eat with Dentures?
Having a complete set of teeth again will allow you to expand your diet to include foods that were previously impossible to chew. That being said, there are still certain foods you should limit or avoid if you can, even after you've fully adjusted to your dentures. These foods include:
Sticky foods (peanut butter, gummy candies, etc.) that can pull your denture out of place.
Foods with small pieces (popcorn kernels, shelled nuts) that could get trapped under the denture.
Extremely crunchy foods (apples, nuts, corn on the cob, etc.) that could damage or dislodge dentures.
Tough meats (steak, pork chops, etc.) that require a great deal of chewing and could put your dentures and gums under serious stress.
If you're ever in a situation where these types of foods are the only option available to you, you can still eat them. Just be sure to chew them carefully.
Is It Hard to Talk with Dentures?
It can take some time to get used to speaking with dentures, especially if you've never worn them before. This adjustment process generally takes a few weeks, but you can speed it up by practicing more often.
Some denture patients experience a slight lisp at first due to changes in the way their tongue touches their palate when pronouncing certain words. Luckily, this lisp should disappear as you grow accustomed to speaking while the dentures are in. Throughout this process, wearing a small amount of denture adhesive can stabilize your prosthetic and help greatly while you're still learning.
Can I Sleep with My Dentures?
More often than not, your denture dentist in Rocky Hill will advise against going to sleep while your dentures are still in your mouth. It's usually a good idea to give your gums and jaw a chance to recover from the pressure of holding your dentures in place all day, so taking them out before bed is the perfect opportunity. It's also a great time to let them soak in a glass of lukewarm water or denture cleanser to minimize plaque buildup.
Can I Use Regular Toothpaste to Clean My Dentures?
Cleaning your dentures on a daily basis is essential, but avoid using the same kind of toothpaste or toothbrush that you would use for natural teeth. These products are actually abrasive to dentures. Over time, they can leave tiny scratches in your prosthetic that could result in irreversible damage. Instead, clean your dentures after every meal with a denture cleaning solution, mild dishwashing liquid, or hand soap. Also, be sure to let them soak overnight.